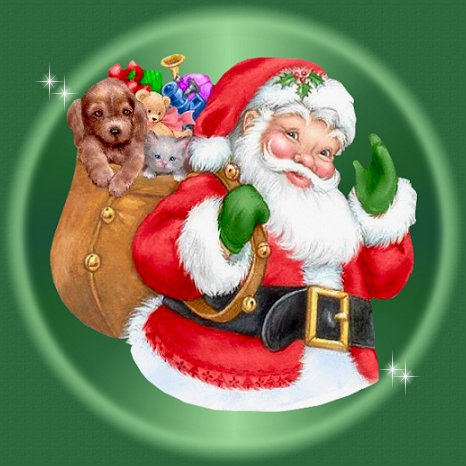 I LOVE SANTA

I love that jolly big fat man
who wears a crimson suit,
with a wide black belt around his waist
and a big black shiny boot.

I love his fluffy beard so white
and the twinkle in his eye,
and I'm very fond of his reindeer
who can pull his sleigh and fly.

I love that bag slung on his back
that's filled with lots of toys
that he will bring on Christmas Eve
to awesome girls and boys.

I love to see his tummy shake
when he laughs a ho-ho-ho!
And I love his Rudolph reindeer
with his big red nose aglow.

I love him for so many things,
but mostly it's because
he has a happy, giving heart --
you see, he's Santa Claus!

Copyright © 2010 Ruth Gillis


This page is best viewed in Internet Explorer browser 5+, large screen monitor.
It was not created to view well in hand-held devices.
Other browser users will not be able to hear the music
or see some of the special effects on some of the pages.

For info on page design/graphics, and for Email,
go to my Index page.



All poetry written by Ruth Gillis is copyrighted and may not be used in any way
without written permission from the author herself,
whether it is found on this site or any other.
If you would like to use my poetry for any purpose,
please email me for permission.
NOTE: SHARING A LINK TO MY PAGES IS MUCH APPRECIATED.