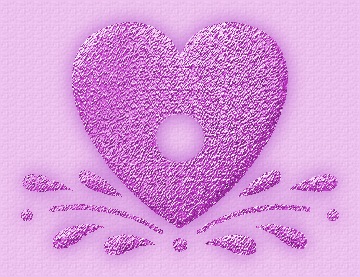 HOLE IN YOUR HEART

When you were ten you wept
when your prince rode away
on the white horse with her, not you.
Soon pink envelopes replaced
those letters signed Love, Daddy,
which you kept, so carefully guarded,
in your secret hiding place.
Summer visits became almost a chore,
a duty, because he worked, she didn't,
and bedtime was early.

When their daughter came,
you stood outside the broken glass,
a waif wanting to come in.
Your strides, though vigorous,
never measured up; her trophies
gleamed atop his mantel.

Now you're thirty-three,
and in the quiet room
you caress his lifeless brow,
the tears of a lifetime
exploding in your heart.

Copyright © 1993 Ruth Gillis

"Hole In Your Heart" received a Second Place Award in the
June 1995 issue of Anterior Poetry Monthly.

This page is best viewed in Internet Explorer browser with a large screen monitor.
Other browser users will not be able to hear the music.

For info on page design/graphics, and for Email,
go to my Index page.

Music "Whispers of the Heart" is by Bruce DeBoer.

All poetry written by Ruth Gillis is copyrighted and may not be used in any way
without written permission from the author herself,
whether it is found on this site or any other.
THIS INCLUDES POSTING ON EZBOARDS, FORUMS, ETC.
If you would like to use my poetry for any purpose,
please email me and request permission.