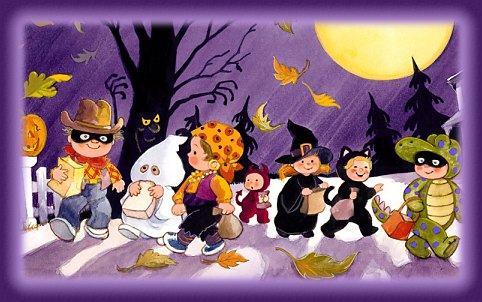 Trick Or Treat

Is that a poltergeist I hear
come rapping at my door?
No, just a little ghost with sack,
some candy to implore.

What fun it is to watch the kids
on every Halloween
as they come prancing to my door,
a most delightful scene.

There's Bill and Sue from down the street,
decked out as cat and mouse,
and here comes Johnny as the Count;
he's headed to my house.

The goody bowl is in the hall,
piled to the brim with candy,
and if by chance the bowl runs out,
there's more that I have handy.

So I will don my witch's hat,
pass out the treats with zeal,
and when I take my partial out
they'll think that I am real!

Copyright © 2000 Ruth Gillis

Published in Poet's Review October 2000







This page is best viewed in Internet Explorer browser with a large screen monitor.
Other browser users will not be able to hear the music
or see some of the special effects on some of the pages.

*For info on page design/graphics, and for Email,
go to my Index page.
All poetry written by Ruth Gillis is copyrighted and may not be used in any way
without written permission from the author herself,
whether it is found on this site or any other.
THIS INCLUDES POSTING ON EZBOARDS, FORUMS, ETC.
If you would like to use my poetry for any purpose,
please email me and request permission.
NOTE: SHARING A LINK TO MY PAGES IS MUCH APPRECIATED.