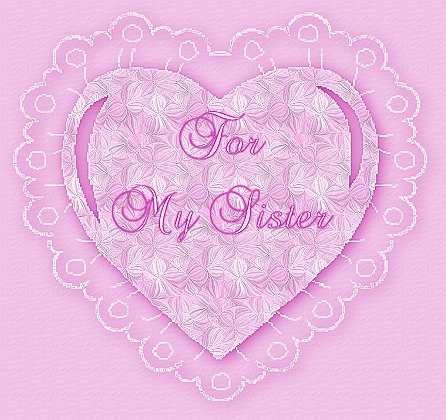 For My Sister

You were 15 years older than I.
We didn't really grow up together,
yet, in my heart,
you were always there.
Fingers of my memory
quilt through a patchwork of time,
gently caressing our yesterdays
with love.
Fine threads needle through
treasured moments,
moments as soft as spring rain.

In my youth you were my favorite sister,
and time has made no alterations.

Copyright © 1999 Ruth Gillis



This page is best viewed in Internet Explorer browser with a large screen monitor.
Other browser users will not be able to hear the music
or see the special effects on the pages.

For info on page design/graphics, and for Guest Book and email,
go to my Index page.

The music on this page "Within My Heart" is by Bruce DeBoer.
All poetry written by Ruth Gillis is copyrighted and may not be used in any way
without written permission from the author herself,
whether it is found on this site or any other.
If you would like to use my poetry for any purpose,
please email me for permission.
NOTE: SHARING A LINK TO MY PAGES IS MUCH APPRECIATED.