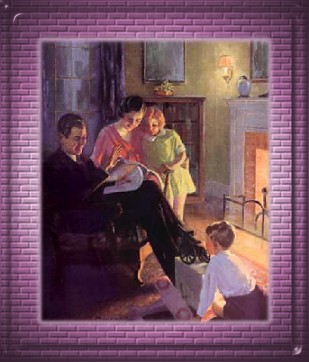 Hearthside Remembrance

Flickery firelight shadows
take me back to a gentle time
when youth was wrapped
in warm blankets of love.
Howling winter winds
become soundless
when soft crackles
of a wood-burning fire
echo in my mind.
Time cannot fleece memories
nor erase feelings of cozy comfort
experienced in a childhood
of security
that was Mom and Dad.
Copyright © 1995 Ruth Gillis
Previously published in the Winter 1996 issue of
Oatmeal and Poetry

This page is best viewed in Internet Explorer browser with a large screen monitor.
Other browser users will not be able to hear the music
or see the special effects on the pages.
*For info on page design/graphics, and for email,
go to my index page.*
Music on this page is Heartstrings by Bruce DeBoer.
All poetry written by Ruth Gillis is copyrighted and may not be used in any way
without written permission from the author herself,
whether it is found on this site or any other.
If you would like to use my poetry for any purpose,
please email me for permission.
NOTE: SHARING A LINK TO MY PAGES IS MUCH APPRECIATED.