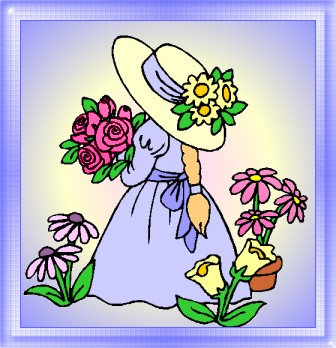 My dictionary defines spring as that period,
in the astronomical year,
between the vernal equinox
and the summer solstice;
a season which begins after winter ends.

I say spring is a little girl
decked out in a frilly dress,
shiny shoes, matching purse,
her beribboned curls bouncing
as she prances off to Sunday School.

Spring is a little boy
wearing a mischievous grin,
cut-off jeans, no shoes,
with a cane pole in one hand,
pail of worms in the other,
hurriedly heading out
to the nearest fishing hole,
Fido chasing at his heels.

Spring is the twinkle in my heart;
my brand-new Easter bonnet.

~Copyright © 1993 Ruth Gillis~
This page is best viewed in Internet Explorer browser with a large screen monitor.
Other browser users will not be able to hear the music
or see the special effects on some of the pages.

For info on page design/graphics, and for Email, go to my Index page.
All poetry written by Ruth Gillis is copyrighted and may not be used in any way
without written permission from the author herself,
whether it is found on this site or any other.
THIS INCLUDES POSTING ON EZBOARDS, FORUMS, ETC.
If you would like to use my poetry for any purpose,
please email me and request permission.
NOTE: SHARING A LINK TO MY PAGES IS MUCH APPRECIATED.