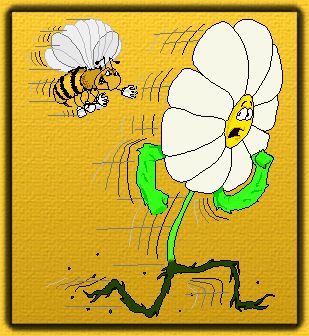 BEES
(With apologies to Joyce Kilmer)

I think that I shall never see
A bug more frightening than a bee.

A bee whose stinger will impose
Fierce pain to arm or leg or nose;

A bee whose potent wretched venom
Will torment folks who get it in 'em;

A bee that always works for hours
Purloining nectar from our flowers;

Upon whose head reside five eyes;
Who stabs its victim and then dies.

To me it seems a little funny
That only bees can make pure honey.


Copyright © 1996 Ruth Gillis

"Bees" received a Second Place Award in the
September/October 1999 issue of Poets at Work.
This page is best viewed in Internet Explorer browser with a large screen monitor.
Other browser users will not be able to hear the music
or see the special effects on the pages.

*For info on page design/graphics, and for email,
go to my index page.*
All poetry written by Ruth Gillis is copyrighted and may not be used in any way
without written permission from the author herself,
whether it is found on this site or any other.
THIS INCLUDES POSTING ON EZBOARDS, FORUMS, ETC.
If you would like to use my poetry for any purpose,
please email me and request permission.
NOTE: SHARING A LINK TO MY PAGES IS MUCH APPRECIATED.