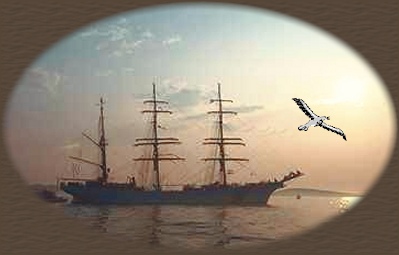 The Last Voyage

The breath of night slinks closer to the quay,
And visions of the past like sails unfold;
Time robs the young like pirates steal from prey,
And death becomes the stalker of the old.

The veteran sailor rests inside the bow;
His fervid dreams have sadly run aground;
Adventure's quest no longer calls him now;
The aged mariner is homeward bound.

The shroud of darkness tightens like a grip;
He hears the anchor dropping in the deep;
He heeds the Master's call, "Abandon ship!"
He has a date with destiny to keep.

But good seafarers never really die;
They merely trade their sails for wings that fly.

Copyright © 1998 Ruth Gillis

"The Last Voyage" received a Second Place Award in the
May 2000 issue of RB's Poets' Viewpoint
and a First Place Award in the
Summer 2001 issue of Bell's Letters.


This page is best viewed in Internet Explorer browser with a large screen monitor.
Other browser users will not be able to hear the music
or see the special effects on the pages.
This page was not created to view well in hand-held devices.
*For info on page design/graphics, and for Email,
go to my Index page.*


VIEW GUEST BOOK **** SIGN GUEST BOOK
All poetry written by Ruth Gillis is copyrighted and may not be used in any way
without written permission from the author herself,
whether it is found on this site or any other.
If you would like to use my poetry for any purpose,
please email me for permission.
NOTE: SHARING A LINK TO MY PAGES IS MUCH APPRECIATED.