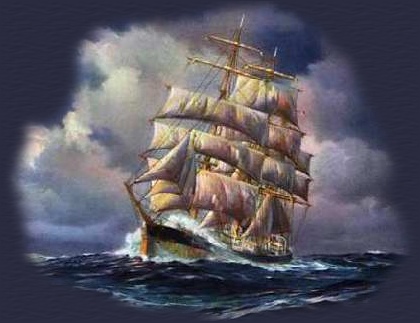 THE LEGEND OF MARY CASS

His ship set sail at the break of dawn
when the sky was as clear as glass,
and he stood on the deck and waved goodbye
to his young sweet Mary Cass.

The two had plans to wed when he
returned to the mainland shore,
and he made a vow to his maiden fair
he would sail the seas no more.

They often talked of the kids they'd have
and dreamed of their wedding day;
now he longed for the end of his final sail
when he'd come home to stay.

But the course of life does not run smooth,
and so often turns the tide;
then the clearest skies can change to gray
and the best laid plans deride.

The gale blew in on the second day,
and it hit with a mighty blast;
he watched with doom from his crow's-nest post
as it ripped the sails from the mast.

With a vengeance bold the storm raged on,
and the ship never reached the shore,
for in nature's wrath the ship and crew
were consumed forevermore.

Now the legend goes that for two years hence,
if by the sea you should chance to pass,
you could hear a voice from the briny deep
calling out, "Sweet Mary Cass."

And there are those who swear a girl was seen
wandering the shore one night,
with a smiling face and a gleaming eye,
in a gown and veil of white.

She neared the edge with her arms outstretched,
and then she dove into the sea,
where at last she wed her one true love,
together for eternity.

And some folks claim that in years to come,
when the moon shone down on the sea,
from out of the deep three kids emerged
and played on the shore happily.

Copyright © 1999 Ruth Gillis

Previously published in the July 1999 issue
of Poet's Review


This page is best viewed in Internet Explorer browser, large screen monitor.
Other browser users will not be able to hear the music
or see the special effects on the pages.
This page was not created to view well in hand-held devices.
For info on page/graphics, and for Email,
go to my Index page.
All poetry written by Ruth Gillis is copyrighted and may not be used in any way
without written permission from the author herself,
whether it is found on this site or any other.
If you would like to use my poetry for any purpose,
please email me for permission.
NOTE: SHARING A LINK TO MY PAGES IS MUCH APPRECIATED.