Down autumn paths of yesterday
I walk in memory,
exploring trails of early years
the way they used to be.

When summer waned and days grew short
I always felt a thrill
to know that soon the season's change
would bring a soothing chill.

So hot for months the days had been
it gave a sweet reprieve
to sense the coolness in the air
as summer took her leave.

September slipped onto the stage
preparing for a show,
and my young heart would dance with joy
as off to school I'd go.

Delighting in new paths to skip,
to learn and see my friends,
I'd hop the bus with agile gait,
my lunch sack in my hand.

Down red dirt roads 'tween autumn crops
the bus would speed away,
and from my window seat I watched
the farmers stacking hay.

Then soon October entered in,
her colored leaves aglow,
and on those crispy, sweatered morns
I felt her soft winds blow.

What dreams prevailed in childlike form
amidst this autumn scene!
Anticipations mounting high --
'twould soon be Halloween!

Oh, hayrides and the haunted house,
an apple bob, a country store,
a king and queen, and cake walk too,
a fishing pond and more!

Then on the heels of Halloween
November came to town,
and soon Thanksgiving had arrived
while leaves came whirling down.

How much the world has changed since then;
the carefree times are gone,
but memories of those autumn days
inside my heart live on.

The whispers of the fall sometimes
I hear with gentle laugh,
then once again I am a child
and stroll the autumn path.

~Copyright © 2002 Ruth Gillis~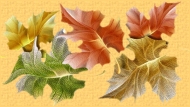 This page is best viewed in Internet Explorer browser with a large screen monitor.
Other browser users will not be able to hear the music or see the special
effects on some of the pages.

For info on page design/graphics, and for email
go to my Index page.

Music (Solitude) on this page is by Margi Harrell.


All poetry written by Ruth Gillis is copyrighted and may not be used in any way
without written permission from the author herself,
whether it is found on this site or any other.
If you would like to use my poetry for any purpose,
please email me for permission.
NOTE: SHARING A LINK TO MY PAGES IS MUCH APPRECIATED.