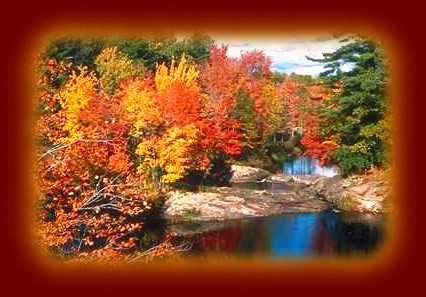 Autumn Ornamentation

The Painter of the land
takes out His magic buckets
of scarlet red
golden yellow
bold orange
and some muted tones
of brown.
With a quick flourish of hand,
He garnishes tree and shrub
in every hill and dale.

In the twinkling of an eye,
He strokes the sky
with brilliant blues,
breathes soft ripples
on the shimmering lake.

Magnificent autumn ornamentation,
emblazoned only
by the omnipotent
Painter of the land.

Copyright © 1997 Ruth Gillis





This page is best viewed in Internet Explorer browser with a large screen monitor.
Other browser users will not be able to hear the music
or see some of the special effects on some of the pages.

*For info on page design/graphics, and for Email
go to my Index page.*

Music "The Meadow" is by Bruce DeBoer.
All poetry written by Ruth Gillis is copyrighted and may not be used in any way
without written permission from the author herself,
whether it is found on this site or any other.
THIS INCLUDES POSTING ON EZBOARDS, FORUMS, ETC.
If you would like to use my poetry for any purpose,
please email me and request permission.
NOTE: SHARING A LINK TO MY PAGES IS MUCH APPRECIATED.