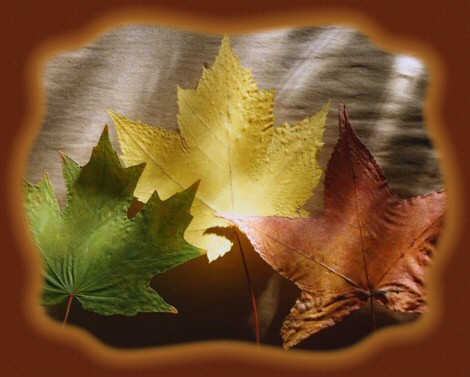 SEASONS

Each season speaks a language all its own,
and every season wears a different dress.
While Autumn cloaks herself in amber tone,
bare Winter's gown is laced in quietness.

Refreshing as a soft pastel bouquet,
florescent Spring peeps out in tender green,
while luscious Summer's decked in full array
and brazenly explodes upon the scene.

Spring whispers with a voice as sweet as youth,
while Summer shouts with hale and hardy breath;
tired Autumn sighs with wisdom and with truth,
while Winter's hush is tantamount to death.

All seasons have a voice that is unique,
but God alone announces when they speak.

~Copyright © 1999 Ruth Gillis~

"Seasons" received a First Place Award in the
March 1999 issue of RB's Poets' Viewpoint
and a First Place Award in the
July/August 1999 issue of Poets At Work






This page is best viewed in Internet Explorer browser with a large screen monitor.
Other browser users will not be able to hear the music
or see some of the special effects on some of the pages.

For info on page design/graphics, and for Email,
go to my Index page.

The music "Last Days of Autumn" is by Bruce DeBoer.




All poetry written by Ruth Gillis is copyrighted and may not be used in any way
without written permission from the author herself,
whether it is found on this site or any other.
THIS INCLUDES POSTING ON EZBOARDS, FORUMS, ETC.
If you would like to use my poetry for any purpose,
please email me for permission.
NOTE: SHARING A LINK TO MY PAGES IS MUCH APPRECIATED.