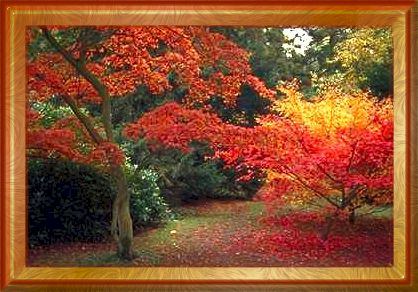 The Red Leaf Of Autumn

If I must compare myself
to an autumn leaf,
then I shall be a red one,
clinging tenaciously
to the tree of Life,
sporting my hue
in a golden ray of sun.
I will dance in crimsoned glory
upon a lively breeze,
beneath a sky of brilliant blue.

When winter fades my color,
I shall glide like a snowflake
to my place of final rest,
with a grin upon my face.

"She lived life to the hilt,"
they'll say,
"and never was she old."

~Copyright © 1995 Ruth Gillis

Previously published in the September 1995
issue of RB's Poets' Viewpoint


This page is best viewed in Internet Explorer browser with a large screen monitor.
Other browser users will not be able to hear the music
or see some of the special effects on some of the pages.
For info on page design/graphics, and for Email,
go to my Index page.
All poetry written by Ruth Gillis is copyrighted and may not be used in any way
without written permission from the author herself,
whether it is found on this site or any other.
THIS INCLUDES POSTING ON EZBOARDS, FORUMS, ETC.
If you would like to use my poetry for any purpose,
please email me for permission.
NOTE: SHARING A LINK TO MY PAGES IS MUCH APPRECIATED.