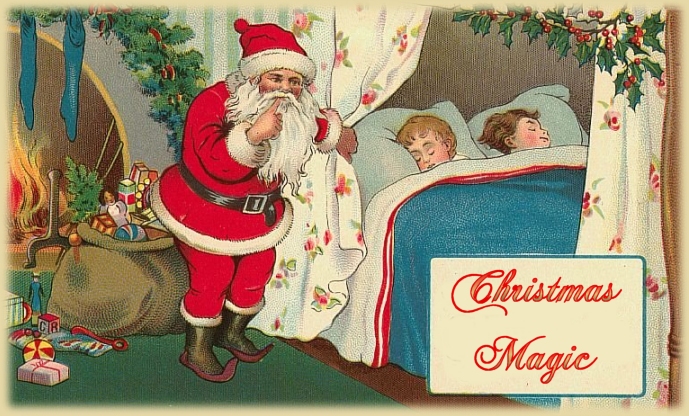 CHRISTMAS MAGIC

I am thankful for the Christmas
And the little tousled heads
As they slumber dreaming peacefully
In their comfy pillowed beds,
For the jolly red-clad Santa
Who comes riding through the air
Bringing goodies in a sack
For lovely children everywhere.

Don't you feel the Christmas season
And the gaiety in the air?
Don't you sense the Christmas spirit
And the gladness everywhere?
Can't you breathe the holy stillness
And the fragrance of the night?
Do you not believe in magic
When the world is calm and quiet?

Oh! if I live to be a hundred,
I know each December I shall see
A magical joy unfold each year
When we trim that glorious tree.
As long as there are children
Their sparkling eyes will impart
A glow of magic at the Yuletide
And love within my heart.

~Copyright © 1993 Ruth Gillis~

First published in Tucumcari Literary Review,
November 1993


This page is best viewed in Internet Explorer browser, large screen monitor.
It was not created to view well in hand-held devices.
Other browser users will not be able to hear the music
or see some of the special effects on some of the pages.

For info on page design/graphics, and for Email,
go to my Index page.

All poetry written by Ruth Gillis is copyrighted and may not be used in any way
without written permission from the author herself,
whether it is found on this site or any other.
If you would like to use my poetry for any purpose,
please email me for permission.
Sharing a link to my pages will be appreciated.