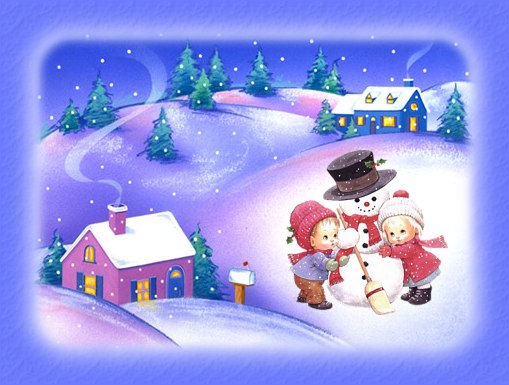 Oh, how I love a snowman country Christmas,
with snowflakes gaily waltzing in the air,
where little girls and boys in cozy mittens
build snowmen on the lawn without a care.

In every yard I see a smiling snowman
who seems to come alive and say, "Hello!
Come play with me and have a merry Christmas,
and welcome to my wonderland of snow!"

The countryside looks like a grand confection,
with dazzling sugar-coated roofs of white,
and trees that sport their limbs of frosted splendor
and gleam so brightly in the morning light.

The atmosphere is chilled and very nippy,
the kind of nip that turns your nose to red,
and when the hills become a snow-laid carpet,
the children all go coasting in their sled.

What joy it is to hear their playful laughter!
They fill my heart with fun and Christmas cheer,
and soon I know they'll come inside for cocoa;
oh, how I love this snowman time of year!

Copyright © 2003 Ruth Gillis





This page is best viewed in Internet Explorer browser, large screen monitor.
It was not created to view well in hand-held devices.
Sorry, other browser users will not be able to hear the music
or see the special effects on the pages.

*For info on page design/graphics, and for Email,
go to my Index page.*

The music, "Celestial Dusters", is by Bruce DeBoer.
All poetry written by Ruth Gillis is copyrighted and may not be used in any way
without written permission from the author herself,
whether it is found on this site or any other.
THIS INCLUDES POSTING ON EZBOARDS, FORUMS, ETC.
If you would like to use my poetry for any purpose,
please email me and request permission.
NOTE: SHARING A LINK TO MY PAGES IS MUCH APPRECIATED.