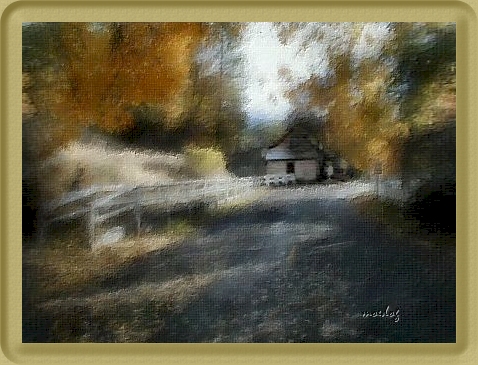 GET AWAY
by Madison Gillis

I want to get away from here,
off to somewhere no where near.
There's got to be a road that leads
to a place that will meet all my needs.

Is the road made of asphalt or stone?
Or is it a dirt road that will lead me home?
As I ponder over the possibilities
something catches my eye -- an object in the trees!

I walk toward it and finally see
a little white house surrounded by weeds.
The house is abandoned and all worn down;
its once-tan shutters have turned to brown.

It is calming in an interesting way,
and I think to myself I'll come back another day.
But after a while I decide to stay,
for this is the place I can get away.

Copyright © 2013 Madison Gillis

(I am proud to say that this lovely poem
was written by my sweet granddaughter.
Thank you, Madison, for sharing your poem
with me and allowing me to display it on my web site).
This page is best viewed in Internet Explorer browser with a large screen monitor.
Other browser users will not be able to hear the music or see the special
effects on some of the pages.
For info on page design/graphics, and for email
and guest book go to my Index page.

The painting is courtesy of Moedog.

The music on this page, "Broken", is by Bruce DeBoer.



All poetry contained in the Guest Room Poets section of Ruth's House of Poetry
is copyrighted by each individual author and may not be used in any way
without written permission from the authors.