HALLOWEEN TALES

They say that ghosts abound on Halloween,
and there are witches flying high on brooms.
They tell me that sometimes they can get mean,
and everyone should hide inside their rooms.

They say that ghouls will visit graves at night
and dig up bodies they intend to eat.
They say it is a weird and ghastly sight,
and from these things we all should fast retreat.

These scary tales are fabricated lies
all conjured up by people who are mean
and like to hear young children's frightened cries
on this most eerie night called Halloween.

I don't believe a word of them, do you?
I think I'll bolt the door in case they're true.

Copyright © 1998, 2010 Ruth Gillis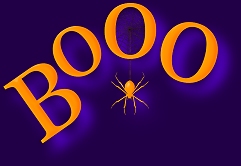 This page is best viewed in Internet Explorer browser with a large screen monitor.
Other browser users will not be able to hear the music or see the special
effects on some of the pages.

For info on page design/graphics, and for email go to my Index page.






All poetry written by Ruth Gillis is copyrighted and may not be used in any way
without written permission from the author herself,
whether it is found on this site or any other.
If you would like to use my poetry for any purpose,
please email me for permission.
NOTE: SHARING A LINK TO MY PAGES IS MUCH APPRECIATED.