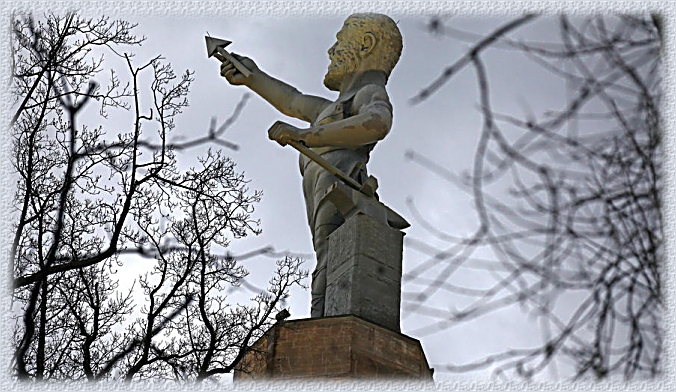 ACROPHOBIA

Walking in the parking lot
on Red Mountain,
looking up
at the 55-foot statue of Vulcan,
I was telling Granny how we could
ride the elevator all the way
to the top of that Iron Man
and look out over the entire city
of Birmingham, Alabama.

Stopping dead in her tracks,
squaring her thin shoulders
and resolutely jutting her chin,
vehemently she declined.

"Furthermore," she said sternly,
"if the Lord sees fit
to ever let me go to Heaven,
He'd better snatch me up in His arms,
'cause I sure ain't going that high
by myself."

Copyright © 1994 Ruth Gillis

Previously published in Parnassus Literary Journal 1994
This page is best viewed in Internet Explorer browser with a large screen monitor.
Other browser users will not be able to hear the music or see the special
effects on some of the pages.
This page was not created to view well in hand-held devices.
This page was created using a 24" monitor.
For info on page design/graphics, and for email
go to my Index page.


All poetry written by Ruth Gillis is copyrighted and may not be used in any way
without written permission from the author herself,
whether it is found on this site or any other.
If you would like to use my poetry for any purpose,
please email me for permission.
NOTE: SHARING A LINK TO MY PAGES IS MUCH APPRECIATED.