TOOTHLESS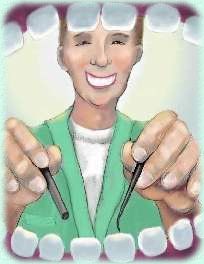 I'm sick of soup;
I could just puke.
I have no teeth
With which to eat --
Doc yanked 'em all.
I sit and bawl.
I crave a snack,
Some crunchy food
To soothe my mood.
A chewy sweet
Would be a treat,
But I can't chew.
I'm feeling blue.
A cup of broth,
Some milky froth,
A bowl of soup
Makes my face droop.
My gums are sore.
I want no more
Pea consommé;
It's so blasé.
I'll appreciate
My store-bought plates.
They'll come next week,
Then I can eat.
Of pearly white,
They'll chomp and bite.
I'll chew a steak --
No more partake
OF ANY KIND OF SOUP!



Copyright © 1995 Ruth Gillis

"Toothless" received the Fickle Pickle Award
in the Summer 1999 issue of The Aardvark Adventurer.

~~~~~~~~

This page is best viewed in Internet Explorer browser with a large screen monitor.
Other browser users will not be able to hear the music
or see some of the special effects on some of the pages.

*For info on page design/graphics, and for email,
go to my index page.*
All poetry written by Ruth Gillis is copyrighted and may not be used in any way
without written permission from the author herself,
whether it is found on this site or any other.
THIS INCLUDES POSTING ON EZBOARDS, FORUMS, ETC.
If you would like to use my poetry for any purpose,
please email me for permission.
NOTE: SHARING A LINK TO MY PAGES IS MUCH APPRECIATED.