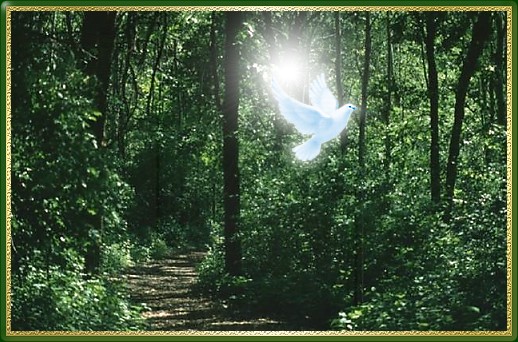 A WOODLAND AWAKENING

I wandered through a country wood
I frequented when but a child;
I marveled at the scenery,
The entire landscape seemed beguiled.

I strolled the wood with newborn eyes,
My feet remembered where to go;
I knew I trod on sacred ground,
But ne'er before had thought it so.

God's workings were quite evident
In every verdant plant and tree,
And as I walked the forest floor,
I knew that God escorted me.

The creatures of the wood performed,
The streamlets gently rippled by,
Cool breezes fanned my timeworn face;
I saw a dove take wing and fly.

'Twas then a peace stole over me,
A calm I'd never known before;
And there amid God's handiwork,
My spirit rose and seemed to soar.

The reverence of this woodland scene
Revealed to me a solemn truth:
All nature blends as one with God --
A truth elusive in my youth.

Copyright © 1998 Ruth Gillis

"A Woodland Awakening" received a First Place Award in the
September/October 1998 issue of Poets At Work.

This page is best viewed in Internet Explorer browser with a large screen monitor.
Other browser users will not be able to hear the music.

For info on page design/graphics, and for Email,
go to my Index page.



All poetry written by Ruth Gillis is copyrighted and may not be used in any way
without written permission from the author herself,
whether it is found on this site or any other.
If you would like to use my poetry for any purpose,
please email me and request permission.