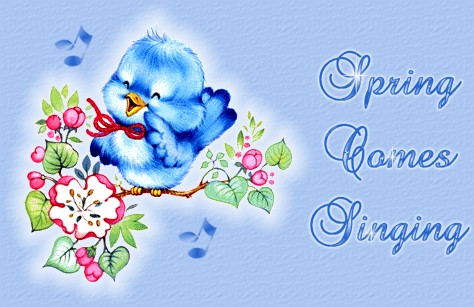 Spring Comes Singing

The icy winds of winter
just made me want to frown;
I thought that lovely springtime
would never come to town.

But now the trees are waking;
they've clothed themselves in green,
and I've almost forgotten
that dreadful winter scene.

There's music on the hillsides,
in every marsh and dell;
I am alive with wonder,
sing like a bird as well!

My garden is a picture,
kaleidoscopic view;
I feel just like the flowers,
all shimmery and new!

The birds and bees are humming;
I hear a meadowlark.
I know a picnic's coming,
a strolling in the park.

Oh, how I love this season;
it makes me want to sing!
My spirit is uplifted
by melodies of spring.

Copyright © 1997 Ruth Gillis

Previously published in the Summer 2000 issue of Bell's Letters

This page is best viewed in Internet Explorer browser with a large screen monitor.
Other browser users will not be able to hear the music
or see the special effects on some of the pages.

*For info on page design/graphics, and for Guest Book and Email,
go to my Index page.
All poetry written by Ruth Gillis is copyrighted and may not be used in any way
without written permission from the author herself,
whether it is found on this site or any other.
THIS INCLUDES POSTING ON EZBOARDS, FORUMS, ETC.
If you would like to use my poetry for any purpose,
please email me and request permission.
NOTE: SHARING A LINK TO MY PAGES IS MUCH APPRECIATED.