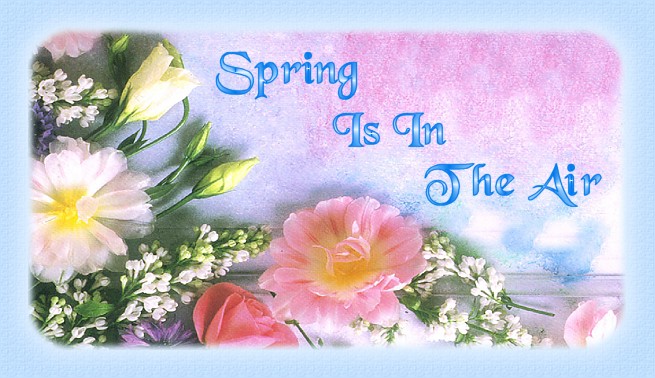 Spring Is In The Air

I hear the call of a verdant spring
beckoning me today,
and I hear the song of a happy lark
inviting me to play.

I see the fields awakening
with seedlings pushing through;
and I see the trees are greening
and bathing in the dew.

And overhead I see the sky
all blue and puffy white;
I see the sun come shining forth,
oh, what a sheer delight!

Oh, take my hand and come with me
along the country lane,
where the air is fresh, the sun is warm,
and the flowers bloom again!

We'll skip along like children do
when they haven't got a care,
and soon our own will disappear
'cause spring is in the air!

Copyright © 2002 Ruth Gillis

This page is best viewed in Internet Explorer browser with a large screen monitor.
Other browser users will not be able to hear the music
or see the special effects on some of the pages.

*For info on page design/graphics, and for Email,
go to my Index page.*

The music, "Treasures To Behold", is by Bruce DeBoer.
View Guest Book

Sign Guest Book
All poetry written by Ruth Gillis is copyrighted and may not be used in any way
without written permission from the author herself,
whether it is found on this site or any other.
THIS INCLUDES POSTING ON EZBOARDS, FORUMS, ETC.
If you would like to use my poetry for any purpose,
please email me and request permission.
NOTE: SHARING A LINK TO MY PAGES IS MUCH APPRECIATED.