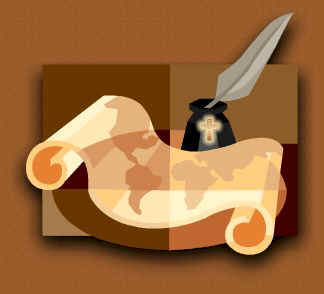 A Poet's God-given Talent

Should inkwells dry and pens all disappear
And poets perish all beside the way,
Earth would become a dull, phlegmatic sphere
Without the poet's words to cheer the day.

For with his pen a poet captures joy,
Dispenses it to all who will partake.
His purpose is to please, not to annoy;
His reasoning to give and not to take.

Some think that poets are a special breed,
Uniquely different from the common strain;
Some claim their words can soothe the hearts that bleed,
Relieving angst with magical refrain.

If this be true, then God Almighty guides
The hand that writes upon the page of time.
Such talent only dwells where love abides,
And God Himself co-authors every line.

Copyright © 1997 Ruth Gillis

First published in the October 1997 issue of The Inspirational Poet


This page is best viewed in Internet Explorer browser with a large screen monitor.
Other browser users will not be able to hear the music
or see the special effects on the pages.
This site was not created to view well in hand-held devices.
**For info on page design/graphics, and for email,
go to my index page.**
View Guest Book ~~~~~~~~~~~~ Sign Guest Book
All poetry written by Ruth Gillis is copyrighted and may not be used in any way
without written permission from the author herself,
whether it is found on this site or any other.
THIS INCLUDES POSTING ON EZBOARDS, FORUMS, ETC.
If you would like to use my poetry for any purpose,
please email me and request permission.
NOTE: SHARING A LINK TO MY PAGES IS MUCH APPRECIATED.