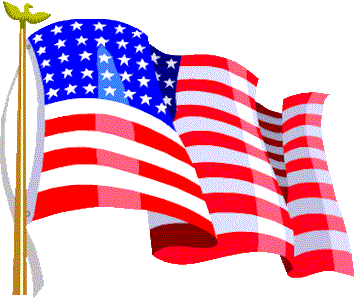 Ode To The American Flag
How proud I am of you, O Flag!
Your stars and stripes are in my soul;
You stand for courage, strength, and might,
And stir my heart with joy untold!

For freedom's cause you live, O Flag,
In this great land, the USA;
Upon my heart I place my hand
And watch you fly in grand display.

With every fiber of your being,
Throughout the wars of history,
You strove to keep our country safe
And wave with pride and dignity.

Amidst the fire and roar of guns
You gallantly remained unfurled,
To save for me and fellowman
A safe, secure, and peaceful world.

O Flag of freedom and of trust,
Allegiance is my pledge to you.
Forever I'll be loyal to
Your glorious red, white, and blue.


~Copyright 1995 Ruth Gillis~

Previously published in the July 1995 issue
of Poet's Review
This page is best viewed in Internet Explorer browser with a large screen monitor.
Other browser users will not be able to hear the music
or see the special effects on the pages.
This site was not created to view well in hand-held devices.
*For info on page design/graphics, and for email,
go to my index page.*
All poetry written by Ruth Gillis is copyrighted and may not be used in any way
without written permission from the author herself,
whether it is found on this site or any other.
If you would like to use my poetry for any purpose,
please email me and request permission.
NOTE: SHARING A LINK TO MY PAGES IS MUCH APPRECIATED.