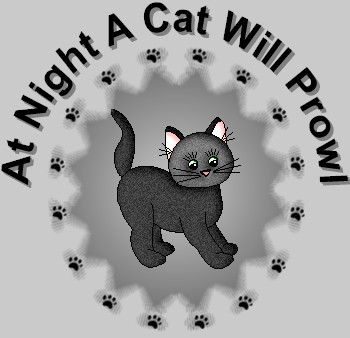 AT NIGHT A CAT WILL PROWL

At night when all the house
is still and quiet,
a cat will prowl around
on silent feet.

He cautiously gets about
his way.
He spies an object
in the corner,

then turns and changes
his direction.
Stopping momentarily,
he looks back, then moves on.

At night a cat will prowl.
He takes advantage of the hours
when he can be alone.

Prowl, cat.

~Copyright © 1950 Ruth Gillis~

This page is best viewed in Internet Explorer browser with a large screen monitor.
Other browser users will not be able to hear the music
or see the special effects on the pages.

*For info on page design/graphics, and for Email,
go to my Index page.
All poetry written by Ruth Gillis is copyrighted and may not be used in any way
without written permission from the author herself,
whether it is found on this site or any other.
THIS INCLUDES POSTING ON EZBOARDS, FORUMS, ETC.
If you would like to use my poetry for any purpose,
please email me and request permission.
NOTE: SHARING A LINK TO MY PAGES IS MUCH APPRECIATED.