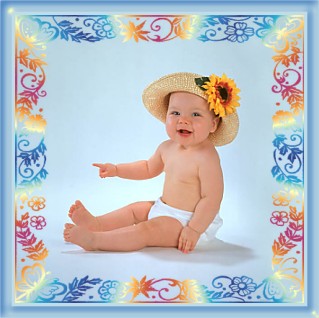 My House The Picture Gallery

Pictures, pictures everywhere,
on my dresser, in my chair,
hanging on my wall with care,
in my pantry -- even there!

Every space that I can fill --
they're sitting on my windowsill!
Some of Mary, some of Bill,
some of Kate and little Phil.

Smiles of mischief, smiles of glee,
bringing joy and love to me.
Perfect pictures do I see,
depictions of true artistry.

Grandkids mean much more than gold;
you treasure them when you are old.

Copyright © 1998 Ruth Gillis

Previously published in the March/April 1998 issue
of Poets At Work








This page is best viewed in Internet Explorer browser with a large screen monitor.
Other browser users will not be able to hear the music
or see the special effects on the pages.
This site was not created to view well in hand-held devices.
**For info on page design/graphics, and for email, go to my index page.**
All poetry written by Ruth Gillis is copyrighted and may not be used in any way
without written permission from the author herself,
whether it is found on this site or any other.
If you would like to use my poetry for any purpose,
please email me and request permission.
NOTE: SHARING A LINK TO MY PAGES IS MUCH APPRECIATED.