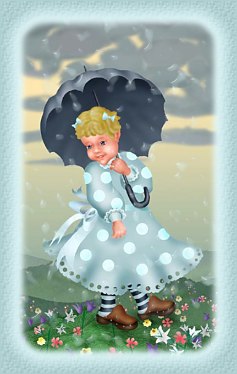 A merry comrade is the rain,
A sociable friend it seems,
And sometimes on a windy night
The rain disturbs my dreams.
Afar off in the haunted distance
I hear the rain's echo
And fancy that I see it dancing
And hear the rain winds blow.

A lonely creature is the rain,
A silent folk it seems,
And sometimes when it's very still,
I go to sleep and dream.
I fancy in my dreams I see,
Afar off in the darkened sky,
A silhouetted sad-faced moon
As it hangs its head to cry.

Copyright © 1950 Ruth Gillis

Previously published in Tucumcari Literary Review October 1993







This page is best viewed in Internet Explorer browser with a large screen monitor.
Other browser users will not be able to hear the music
or see the special effects on the pages.

For info on page design/graphics, and for Email,
go to my Index page.
All poetry written by Ruth Gillis is copyrighted and may not be used in any way
without written permission from the author herself,
whether it is found on this site or any other.
THIS INCLUDES POSTING ON EZBOARDS, FORUMS, ETC.
If you would like to use my poetry for any purpose,
please email me and request permission.
NOTE: SHARING A LINK TO MY PAGES IS MUCH APPRECIATED.