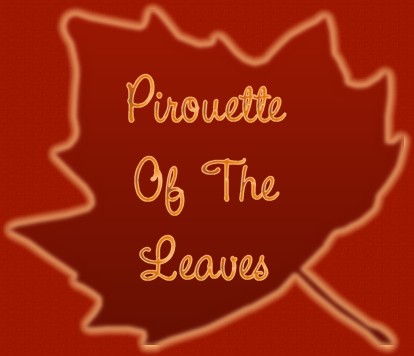 PIROUETTE OF THE LEAVES

Dancing and prancing, they put on a show,
vibrant in costumes of radiant hue;
upward they spiral then downward they go,
waltzing with vigor in their flaming revue.

Twirling and swirling, in time with the wind,
flashing their colors in vivid array;
red, gold, and orange in picturesque blend,
they are the stars of the day.

Making the most of their transient time,
loftily flaunting their power,
reigning supremely in rhythm and rhyme,
they are the queens of autumn's brief hour.

Copyright © 2003 Ruth Gillis






This page is best viewed in Internet Explorer browser with a large screen monitor.
Other browser users will not be able to hear the music
or see some of the special effects on some of the pages.

*For info on page design/graphics, and for Email,
go to my Index page.*

Music "Fairy Dance" is by Bruce DeBoer.
All poetry written by Ruth Gillis is copyrighted and may not be used in any way
without written permission from the author herself,
whether it is found on this site or any other.
THIS INCLUDES POSTING ON EZBOARDS, FORUMS, ETC.
If you would like to use my poetry for any purpose,
please email me and request permission.
NOTE: SHARING A LINK TO MY PAGES IS MUCH APPRECIATED.