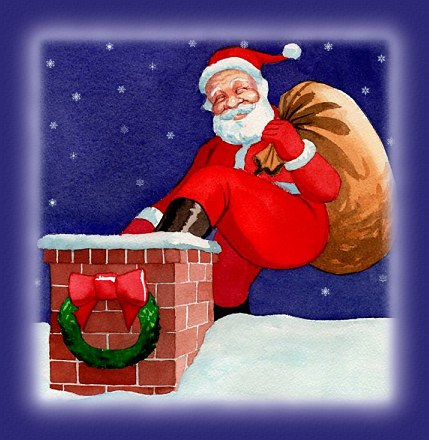 I hear the merry jingle bells,
How joyfully they call!
Reminding me of Santa Claus,
As snowflakes softly fall.



A Mr. Snowman I will make,
A large one, very high,
While visioning a bearded man
With reindeer that can fly.

Jet engines aren't Sir Claus's style;
Of them he has no need,
Because, you see, his trusty sleigh's
Propelled by antlered speed!


His jolly laugh rings in my ear,
And I can hear him say,
"With visibility zero,
Rudolph will lead the way!"

I see the twinkle in his eye
As he prepares to leave,
With presents stuffed inside his bag
For children who believe.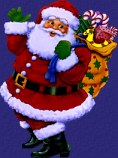 Copyright © 1994 Ruth Gillis

First published in Oatmeal and Poetry,
November 1994


This page is best viewed in Internet Explorer browser with a large monitor.
It was not created to view well in hand-held devices.
Other browser users will not be able to hear the music
or see some of the special effects on some of the pages.

*For info on page design/graphics, and for Email,
go to my Index page.*
All poetry written by Ruth Gillis is copyrighted and may not be used in any way
without written permission from the author herself,
whether it is found on this site or any other.
THIS INCLUDES POSTING ON EZBOARDS, FORUMS, ETC.
If you would like to use my poetry for any purpose,
please email me and request permission.
NOTE: SHARING A LINK TO MY PAGES IS MUCH APPRECIATED.