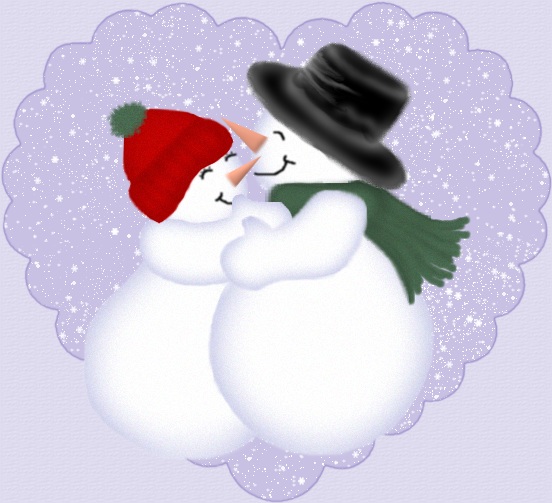 I built a man of snow one day;
I dressed him up real nice.
I then stepped back and sized him up
as he stood there on ice.

I thought he was quite debonair
in woolen scarf and hat,
but he looked so very lonely,
and I wasn't having that.

So I commenced to form a mate;
it took me quite a while.
I placed her by the snowman's side;
I'm sure I saw him smile.

Now, that night late I went outside
and much to my surprise
I saw my snow-made couple
embrace before my eyes!

Their happiness was evident,
no loneliness in view;
they snuggled close together
and kissed like couples do.

I can't explain that magic night;
I've really thought it out.
All I can say it was Christmas time,
and love's what it's about.

Copyright © 2007 Ruth Gillis


This page is best viewed in Internet Explorer browser, large screen monitor.
It was not created to view well in hand-held devices.
Sorry, other browser users will not be able to hear the music
or see the special effects on some of the pages.

For info on page design/graphics, and for Email,
go to my Index page.


All poetry written by Ruth Gillis is copyrighted and may not be used in any way
without written permission from the author herself,
whether it is found on this site or any other.
THIS INCLUDES POSTING ON EZBOARDS, FORUMS, ETC.
If you would like to use my poetry for any purpose,
please email me and request permission.
NOTE: SHARING A LINK TO MY PAGES IS MUCH APPRECIATED.