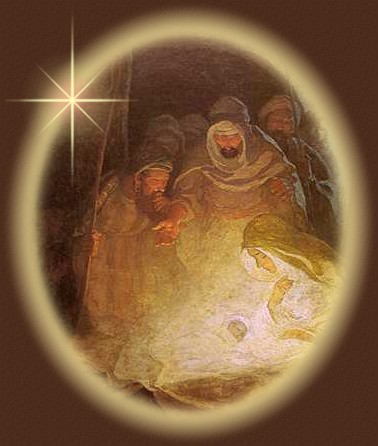 One precious child was born that night,
so long ago in Bethlehem,
and wise men led by star so bright
came from afar to worship Him.

He wasn't born in palace fair,
attended by some royalty,
but in a stable that night there
the cattle were His company.

He had no fleecy layette gown
to keep His little body warm;
in swaddling clothes she laid Him down
inside a cold and airy barn.

His bed was made from stable straw;
He had no home to call His own,
but shepherds knelt in fear and awe
when Heaven's light around Him shone.

No other child since time began
has brought pure joy upon the earth,
nor given hope to every man,
like Jesus Christ of lowly birth.

Copyright © 2000 Ruth Gillis

And she brought forth her firstborn son,
and wrapped him in swaddling clothes,
and laid him in a manger,
because there was no room for them in the inn.
Luke 2:7



This page is best viewed in Internet Explorer browser, large screen monitor.
It was not created to view well in hand-held devices.
Other browser users will not be able to hear the music
or see the special effects on the pages.

*For info on page design/graphics, and for Email,
go to my Index page.*


All poetry written by Ruth Gillis is copyrighted and may not be used in any way
without written permission from the author herself,
whether it is found on this site or any other.
THIS INCLUDES POSTING ON EZBOARDS, FORUMS, ETC.
If you would like to use my poetry for any purpose,
please email me and request permission.
NOTE: SHARING A LINK TO MY PAGES IS MUCH APPRECIATED.