A RICH DECOR

My mother's house
was decorated with
old and priceless things:
rocking chairs
antique high-poster beds
chenille bedspreads
embroidered pillow cases
and dresser scarves
handmade quilts and quilting frames
crocheted doilies
hand-knit shawls
sun bonnets
hand-made cotton-stuffed dolls
pedal sewing machines
flour-sack curtains
kerosene lamps
battery radios
oil-cloth table covers
eating tables with benches
ice boxes and blocks of ice
milk buckets
churns and churn dashers
canning cookers
Mason jars
wash pans and dish pans
water buckets and dippers
wood-burning stoves
fireplaces --
and love.

Copyright © 1998 Ruth Gillis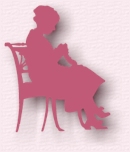 This page is best viewed in Internet Explorer browser with a large screen monitor.
Other browser users will not be able to hear the music or see the special
effects on some of the pages.





For info on page design/graphics, and for email
go to my Index page.

The music on this page is by Bruce DeBoer.




All poetry written by Ruth Gillis is copyrighted and may not be used in any way
without written permission from the author herself,
whether it is found on this site or any other.
If you would like to use my poetry for any purpose,
please email me for permission.
NOTE: SHARING A LINK TO MY PAGES IS MUCH APPRECIATED.