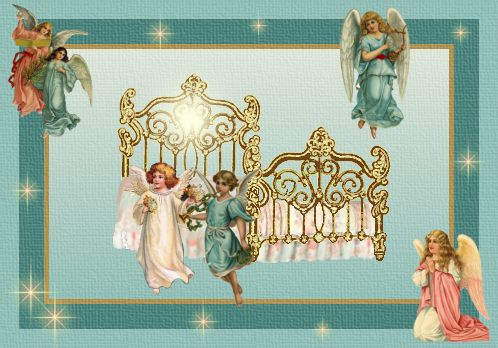 Angels At Her Bedside

They had rushed her in that morning
from the car wreck near the mall,
body bandaged up and bloody,
with almost no pulse at all.

Then the doctors came to tell them
of the injuries she had:
fractured skull and punctured organs,
their prognosis very sad.

"Little Mandy's in a coma,
and her vital signs are weak.
We would like to offer comfort,
for we doubt she'll ever speak."

Loved ones gathered at her bedside,
shedding tears from loss of hope,
spirits broken up and morbid,
but they tried their best to cope.

Suddenly Amanda's mother
made her way out of the room,
with her footsteps light and airy
and her eyes devoid of gloom.

For a phone just seemed to beckon
from its stand 'way down the hall;
Mandy's mother's hand was steady
as she quickly made a call.

Now the preacher, in his study,
with the secretary gone,
lifted up the old receiver,
said "hello" into the phone.

When he hung up from the mother,
he descended down the stairs,
and he said to fellow members,
"Little Mandy needs our prayers."

Then the faithful congregation
on their knees began to pray,
asking of the Great Physician
one huge miracle that day.

And Amanda did recover,
but the doctors can't tell why --
Mandy tells of seeing angels
all around her bedside fly.

~Copyright © 1996 Ruth Gillis~

"Angels At Her Bedside" received a First Place Award
in the October 1996 issue of The Inspirational Poet.



This page is best viewed in Internet Explorer with a large screen monitor.
Other browser users will not be able to hear the music.
*For info on page design/graphics, and for email,
go to my index page.*


View Guest Book **** Sign Guest Book
All poetry written by Ruth Gillis is copyrighted and may not be used in any way
without written permission from the author herself,
whether it is found on this site or any other.
If you would like to use my poetry for any purpose,
please email me and request permission.