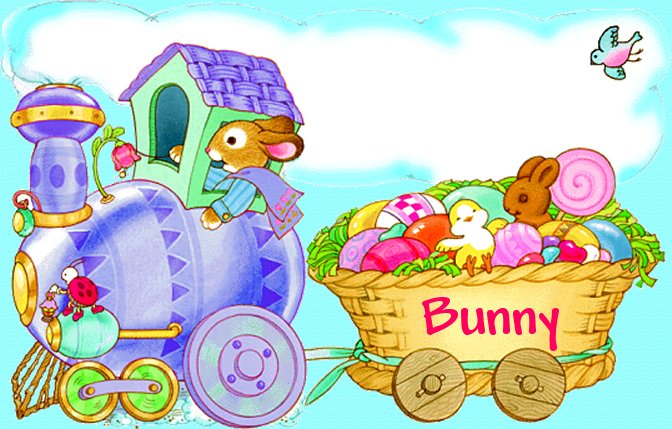 The Bunny Train

Come hop on board the Bunny Train;
there's room for everyone!
Let's choo-choo down to Easter Lane
and have a ton of fun!

Bun's got his engine revving up;
you'll see his train a-smoking!
That rabbit's really something cool,
believe me, I'm not joking!

He's loaded up his neat caboose
with colored eggs a-plenty
that he will hide for you to find --
can never find too many!

If you should find the golden egg,
so dazzling to the eyes,
that bunny's got a treat for you --
you'll get a nice surprise!

He thinks you're very special;
with you he wants to play,
so jump on board his Bunny Train
and you'll be on your way!

Quick! Grab your pretty Easter basket
of brightly-colored hue,
and march right down to Bunny's Depot;
he's waiting just for you!

Copyright © 2004 Ruth Gillis



This page is best viewed in Internet Explorer browser with a large screen monitor.
Other browser users will not be able to hear the music
or see the special effects on some of the pages.

*For info on page design/graphics, and for Guest Book and Email,
go to my Index page.
All poetry written by Ruth Gillis is copyrighted and may not be used in any way
without written permission from the author herself,
whether it is found on this site or any other.
THIS INCLUDES POSTING ON EZBOARDS, FORUMS, ETC.
If you would like to use my poetry for any purpose,
please email me and request permission.
NOTE: SHARING A LINK TO MY PAGES IS MUCH APPRECIATED.