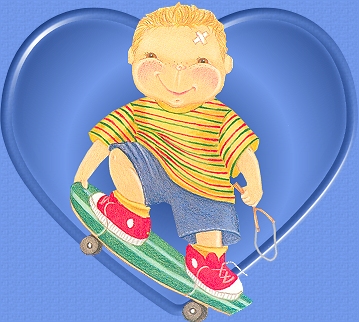 FIVE-YEAR-OLD MALE

I hugged my little son today,
then hurriedly sent him out to play.
I had much to do -- beds to make,
floors to mop and cookies to bake.

I sped around in every room
dusting earnestly and flourishing broom.
Now I'm finished, everything is neat.
Shhh...I hear the patter of sneakered feet.

At the head of the line he stands,
flanked by four tiny pairs of grimy hands.
"Hi, Mom," he says, "can we come in?"
How can I win?
I melt over one snaggle-toothed grin.

Copyright © 1977 Ruth Gillis

Published in Tucumcari Literary Review May 1994 and
Anterior Poetry Monthly July 1995



This page is best viewed in Internet Explorer browser with a large screen monitor.
Other browser users will not be able to hear the music or see the special
effects on some of the pages.
This site was not created to view well in hand-held devices.

For info on page design/graphics, and for email
go to my Index page.

Music (Heart Dance) on this page is by Bruce DeBoer.

All poetry written by Ruth Gillis is copyrighted and may not be used in any way
without written permission from the author herself,
whether it is found on this site or any other.
If you would like to use my poetry for any purpose,
please email me for permission.
NOTE: SHARING A LINK TO MY PAGES IS MUCH APPRECIATED.