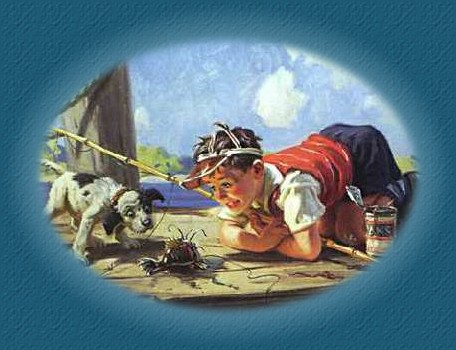 Grandmama's Boy

Grandmama's boy with fishing pole,
So full of youth's unending zest,
I wish that I could take your hand
And join you on your wondrous quest.

For youth is filled with wonderment,
So free of grownup cares and fear,
And summer beckons you to play
While sunny days still linger near.

Oh, winsome child with pail of worms,
Adventure twinkling in your eyes,
Epitomizing summer's charm,
You are the essence of blue skies.

You do not understand, my sweet,
This time so soon shall be no more,
And summer's fire will dwindle down
When autumn sneaks in through the door.

My pride and joy, embrace these days,
The world is yours, so claim it now --
Explore! explore! before the fall
Slips wrinkles on your aging brow.

Copyright © 1995 Ruth Gillis

"Grandmama's Boy" received a Second Place Award
in the July 1996 issue of RB's Poets' Viewpoint.


This page is best viewed in Internet Explorer browser with a large screen monitor.
Other browser users will not be able to hear the music
or see the special effects on the pages.
This site was not created to view well in hand-held devices.
*For info on page design/graphics, and for email, go to my index page.*
All poetry written by Ruth Gillis is copyrighted and may not be used in any way
without written permission from the author herself,
whether it is found on this site or any other.
If you would like to use my poetry for any purpose,
please email me and request permission.
NOTE: SHARING A LINK TO MY PAGES IS MUCH APPRECIATED.